Hexagon Gatsby 1 carat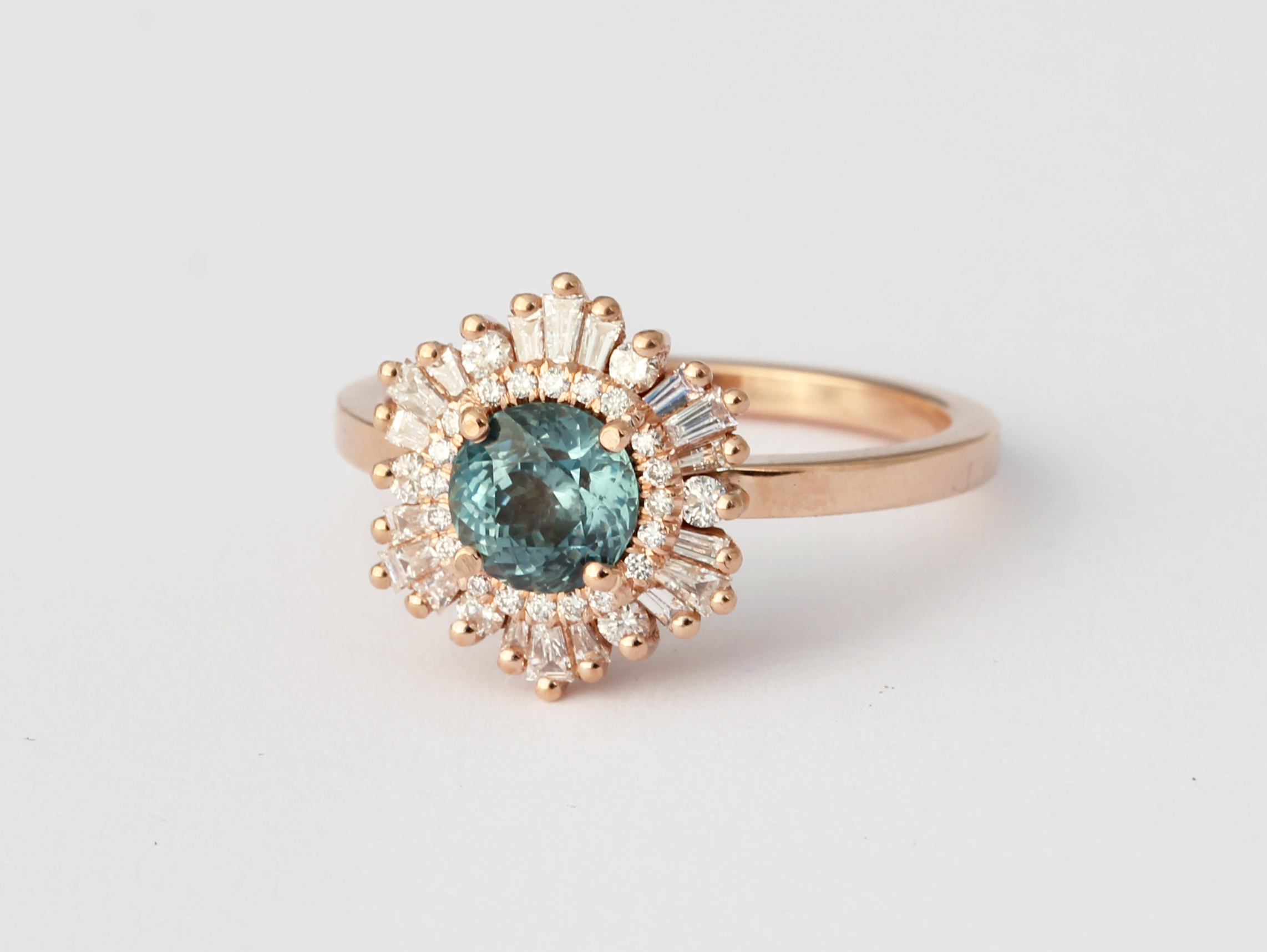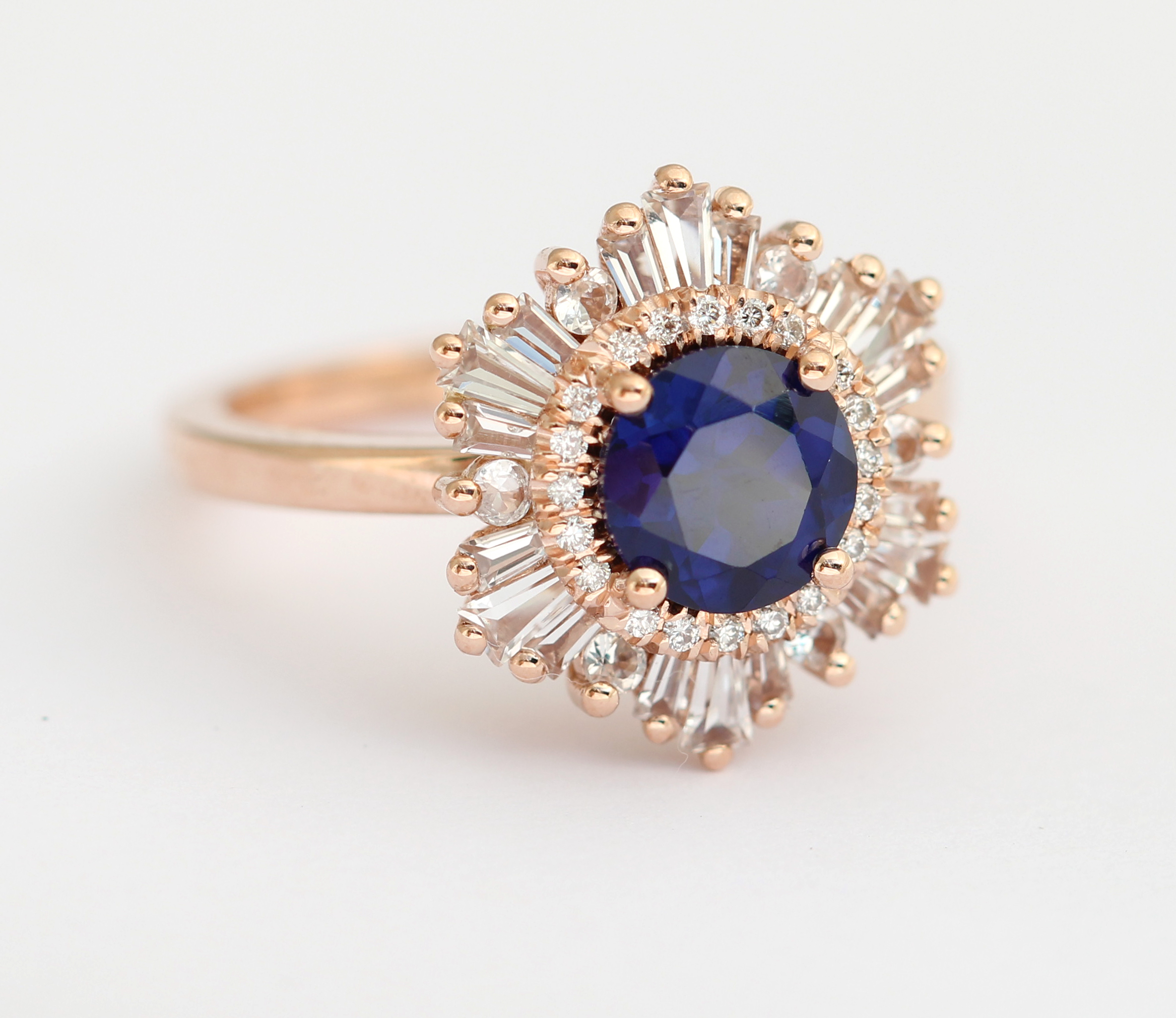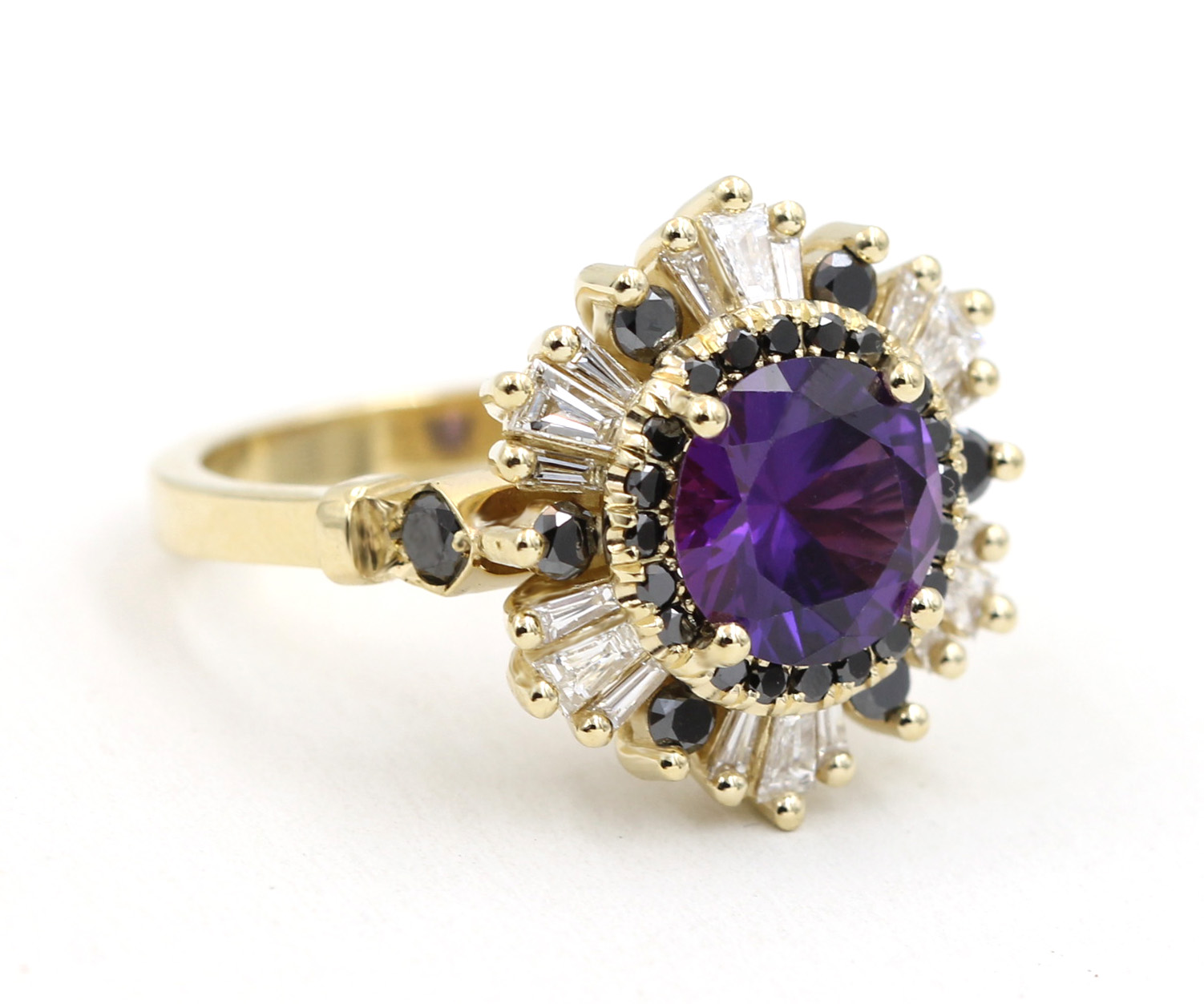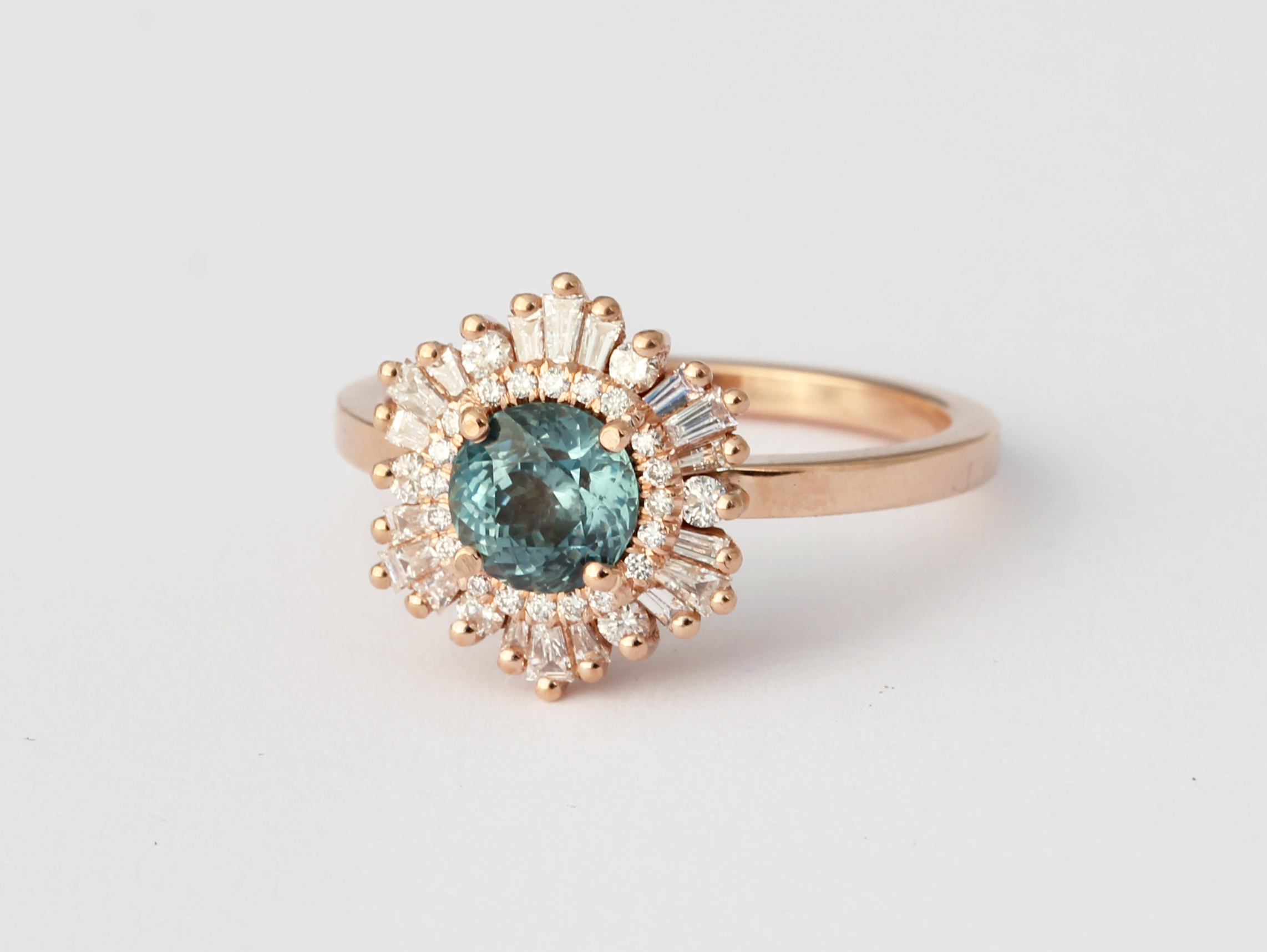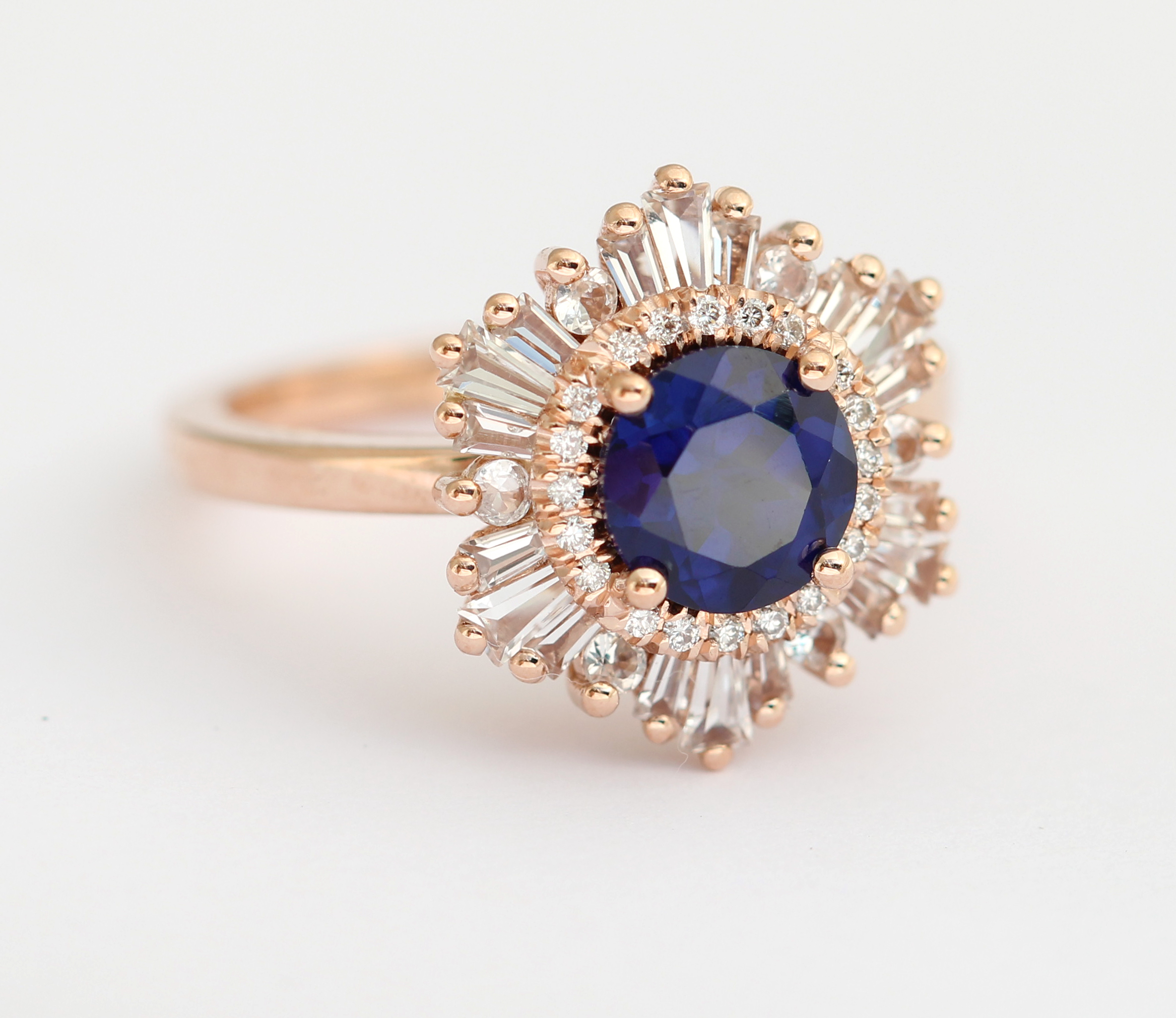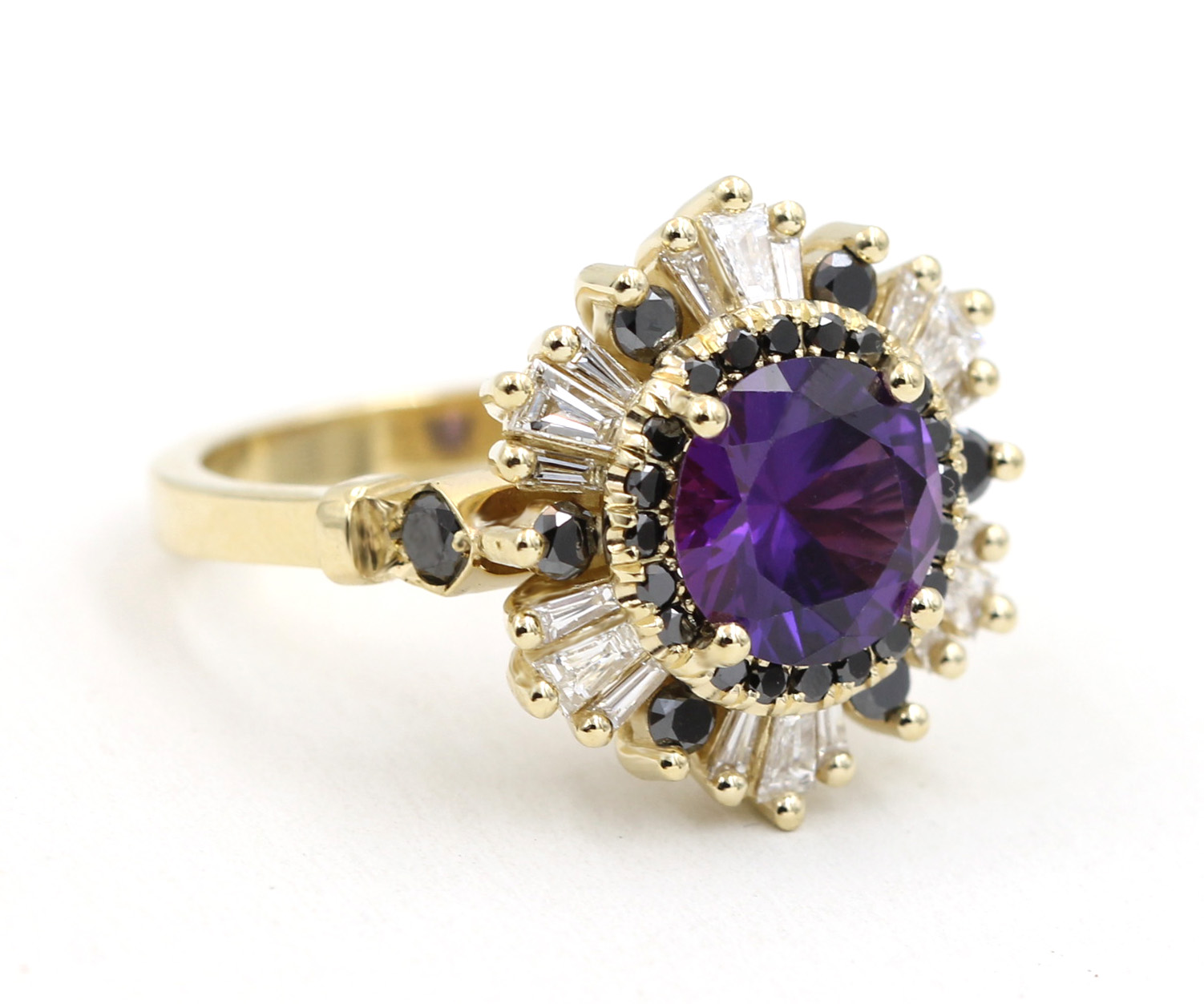 Hexagon Gatsby 1 carat
*This is the listing for the 6.5mm (one carat size) version. The two carat version is listed separately
The Art Deco sunburst and hexagon motifs are beautifully blended in the Hexagon Gatsby, a gorgeous new take on the Original Gatsby. While maintaining the baguette/round pattern, it alters the sequence with six sets of custom cut tapered baguettes instead of four, using one round between each set instead of two. This creates at the overall shape of a hexagon rather than the squared diamond shape of the Gatsby. Two configurations are available: north/south with the baguettes facing top and bottom, and east/west with the baguettes facing side to side. This design is very flexible, and is also available with an 8 mm (two carat) center and as a petite version with a half carat center (see other listings).
Trying to visualize this ring on your finger? Download a super helpful document that shows the actual scale of the designs in my collection here. Print and cut out rings to try them on your finger for a scale reference.
Please visit my FAQ page to learn more about the ordering process.
The ring shown in the first photo is a size 6, 14k yellow gold, with a 6.5mm (1 carat size) center Forever One Moissanite
The subsequent photos feature a rose gold, all diamond version
The ring with the peachy pink center is morganite with surrounding white sapphires in rose gold
The photos on the hand is a size 5.5 finger size
Two carat option is available in a separate listing
also available is the Oval Hexagon Gatsby in the last few photos
Pricing Options for the most commonly used stones:
6.5 mm center white sapphire, diamond halo, and surrounding white sapphires in 14k gold (white, yellow, rose): $2800
Semi mount with diamond halo and surrounding white sapphires (no center stone): $2250
All diamond semi mount, G-H, VS-SI1 (no center stone): $4350
All diamond semi mount with a 1 carat Forever One Moissanite Center: $4700
Complete Diamond ring with 1 ct center stone: varies depending on quality of center stone chosen (anywhere from $7000-14000 total cost and up)
Solid 14k matching band: $200
14k Micro Diamond Pave band (approx. 1.3mm width): $650 or $750 for sizes 6.5 and up
Pricing for commonly used alternative stones:
6.5mm Morganite (peachy pink center) with surrounding white sapphires: $2550
6.5mm Morganite (peachy pink center) with surrounding diamonds: $4500
6.5mm Black Sapphire, black diamond halo with surrounding white sapphires: $2650
6.5mm Black Sapphire, black diamond halo with surrounding white diamonds: $4500
View videos of this ring, compare sizes and stones in my Inspiration Gallery.
Quick Tips
How do I go about ordering this ring?
Visit my

FAQ

page first to better understand the ordering process, then contact me with any additional questions.
What materials are used for the white sapphire version of this ring?
The center is a natural white sapphire, the halo is always diamonds (white sapphires break/crack at that scale), and the outside stones are white sapphires: natural white sapphires for the rounds and Chatham white sapphires for the custom cut baguettes (cleaner stones from the same DNA, less imperfections that would be easily visible in a natural sapphire baguette cut)
I already have an heirloom stone, can I use it in this setting?
Yes! I love when clients incorporate their own stones into my settings. I can build a semi mount for you to precisely fit your center stone size and color. You can choose to send the stone to me to have it set at no extra cost, or I can send you the semi mount to have your stone set locally.
Can I buy this ring with other stones?
Yes! Please contact me for a quote for different stones, including blue sapphires, rubies, etc.
Love the ring as is, but prefer a different size/type center stone or metal? More questions?
Pricing is for fully insured, trackable overnight domestic shipping. International shipping is available - please inquire for a quote. Please contact me with any questions; I am available throughout the process of purchasing your dream ring!