The Rhapsody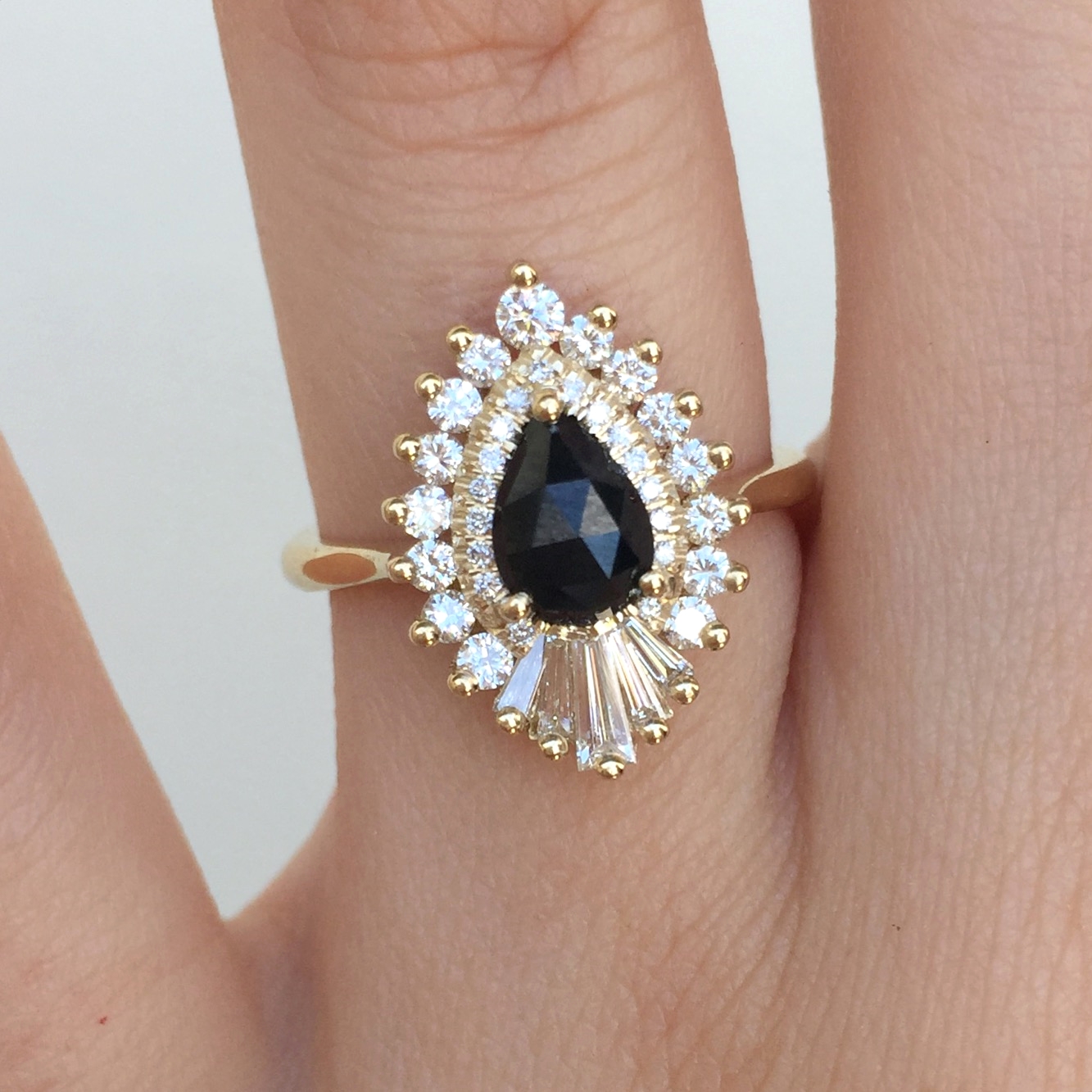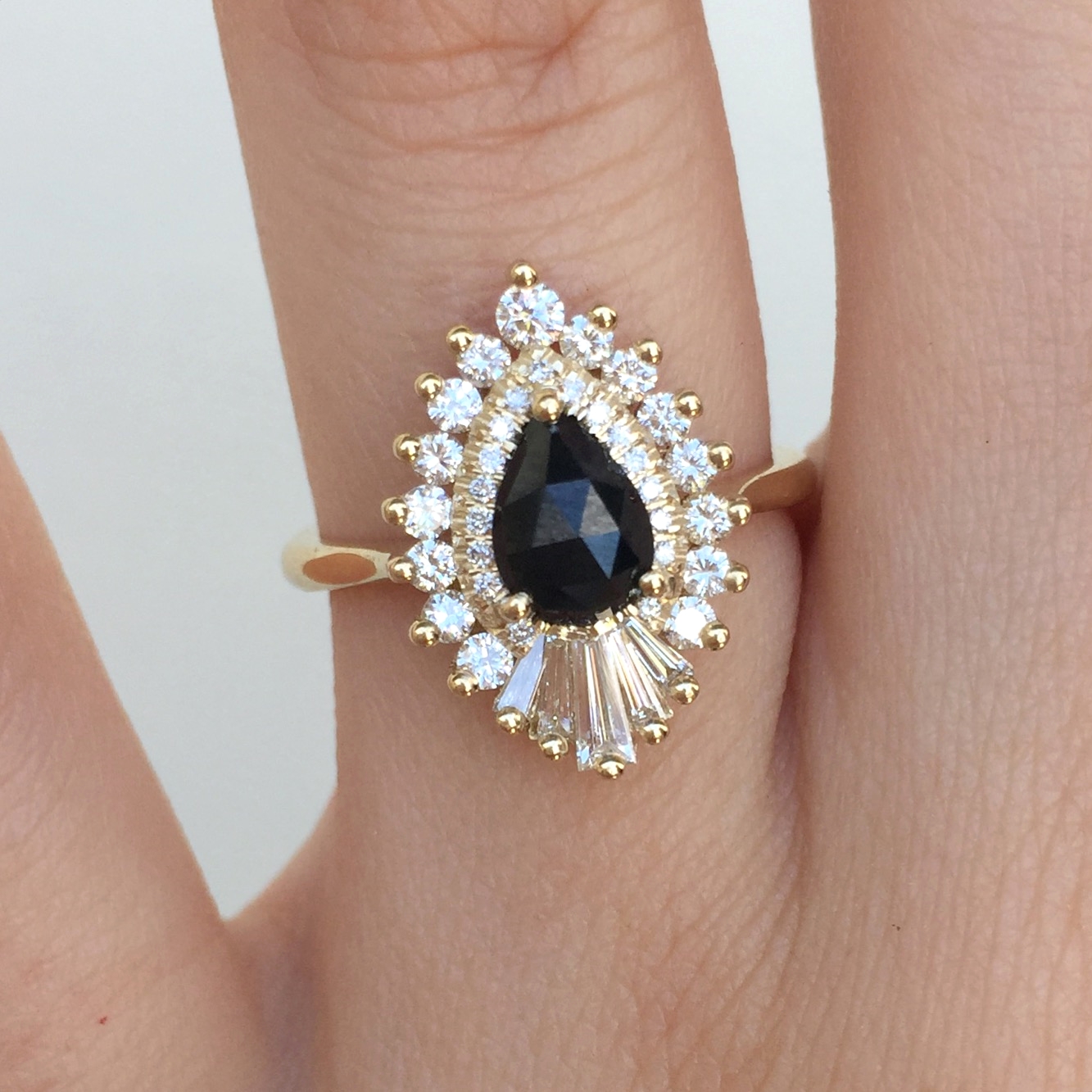 The Rhapsody
The pear-shaped composition of the Rhapsody ring is, as its name suggests, "a work free in form and inspiration." Pear diamonds are as unique in shape as nature creates - each one is cut to maximize the quality of the stone from which it is chiseled. Therefore, each diamond Rhapsody ring is also a custom design, built to complement the shape of the center. The center pear stone is framed by a double halo of varying rounds that serve to soften the sharp point of the pear. The halos are interrupted by the straight lines of the baguette stones that connote piano keys suspended in action.
The setting has been designed to sit low profile and to accommodate a wedding band flush to the shank. I have two standard options for matching wedding bands: 1. A 14k gold solid band ($200); 2. A diamond pave band in 14k ($650 or $750 for sizes 6.5 and up). I can also create custom bands with different size/type stones upon request.
Trying to visualize this ring on your finger? Download a super helpful document that shows the actual scale of the designs in my collection here. Print and cut out rings to try them on your finger for a scale reference.
Please visit my FAQ page to learn more about the ordering process.
The first ring pictured is a size 6.5, 14k rose gold with a moissanite center and diamond halo. The center is 5mm x 7mm and its diamond equivalent weight is .77 carat.
For the all white sapphire (and diamond halo) version and the diamond version with a moissanite center, this ring comes in a standard design with the center measuring 5 x 7mm
The white gold and yellow gold pieces featured are all diamonds with a one carat center. These pieces are larger, approx 19.5mm length in contrast with the .75 carat size, which has an approx. 17mm length
The one with the pinkish center is a peach sapphire, diamond halo, with surrounding white sapphires - this is the same look as morganite combo in rose gold
The diamond version is custom built to order, based on your center stone choice. It will vary slightly in form based on the exact shape/size of the center pear.
The custom Rhapsody pictured in yellow gold has a 1.46 carat yellow diamond center and surrounding white diamonds; vintage detailing on the shank is a $350 upgrade
Pricing Options
Semi mount with diamonds for approximately 5 x 7mm (no center stone): $3800
5 x 7mm Forever One Moissanite center stone with diamond semi-mount: $4000
5 x 7mm custom cut white sapphires with diamond halo: $2580
Complete Diamond ring with approximately .75-.8 ct center stone (G-H, Si1) total length 17mm: $5500 - $6500 (Other qualities/sizes available based on your preferences and budget)
Complete Diamond ring with approximately 1 ct center stone (G-H, Si1) total length 19.5mm: $8000 - $10000 (Other qualities/sizes available based on your preferences and budget; please inquire)
Pricing for Other Commonly Used Stones
5 x 7mm custom cut morganite, with diamond halo and white sapphires surrounding: $2350
5 x 7mm black sapphire center, with diamond halo and white sapphires surrounding: $2500
View videos of this ring, compare sizes and stones in my Inspiration Gallery.
Quick Tips
How do I go about ordering this ring?
Visit my

FAQ

page first to better understand the ordering process, then contact me with any additional questions.
What materials are used for the white sapphire version of this ring?
The center is a natural white sapphire, the halo is always diamonds (white sapphires break/crack at that scale), and the outside stones are white sapphires: natural white sapphires for the rounds and Chatham white sapphires for the custom cut baguettes (cleaner stones from the same DNA, less imperfections that would be easily visible in a natural sapphire baguette cut)
I already have an heirloom stone, can I use it in this setting?
Yes! I love when clients incorporate their own stones into my settings. I can build a semi mount for you to precisely fit your center stone size and color. You can choose to send the stone to me to have it set at no extra cost, or I can send you the semi mount to have your stone set locally.
Can I buy this ring with other stones?
Yes! Please contact me for a quote for different stones, including blue sapphires, rubies, etc.
Can this ring be built with all Moissanite?
Unfortunately, no. Moissanite is not available in tapered baguettes or in the sizes of the outside and halo round stones. You could use a Moissanite center in the diamond semi mount, or in the white sapphire semi mount.
Love the ring as is, but prefer a different size/type center stone or metal? More questions?
Pricing is for fully insured, trackable overnight domestic shipping. International shipping is available - please inquire for a quote. Please contact me with any questions; I am available throughout the process of purchasing your dream ring!